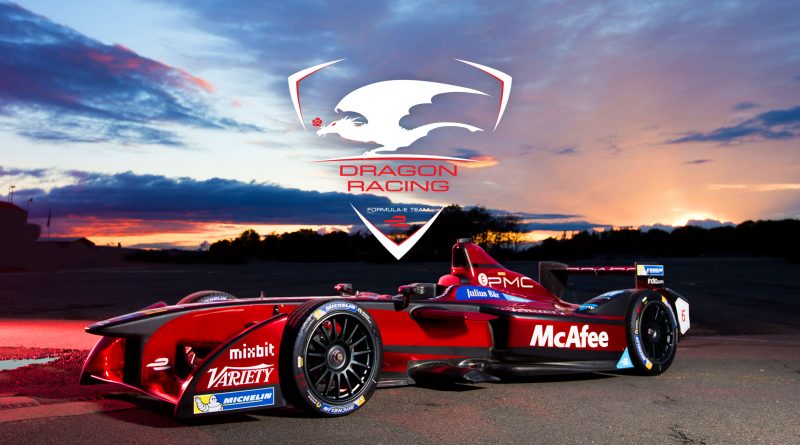 Faraday Future Unveils Formula E Partnership
Faraday Future held a press conference at the 2016 FIA Formula E London ePrix to announce a long-term alliance with Dragon Racing, becoming the core technical partner and title sponsor of the team. The new team name will be Faraday Future Dragon Racing, and the partnership will officially initiate at the beginning of Season 3 (2016/2017) at the Formula E Hong Kong ePrix on October 9, 2016.
The announcement was made by Faraday Future executives Marco Mattiacci, Global Chief Brand & Commercial Officer; Nick Sampson, Senior Vice President, Global R&D and Engineering; Ding Lei, Co-Founder, Vice Chairman and Managing Director of SEE Plan, LeEco; Jay Penske, Dragon Racing Team Owner and Team Principal; Dragon Racing Team Drivers, Loïc Duval and Jérôme D'Ambrosio; and Alejandro Agag, FIA Formula E President.
"Formula E has placed a significant emphasis on electric performance and connectivity, which makes it a great fit for Faraday Future," said Mattiacci. "Formula E has leveraged a community of fans and embodies the competitive spirit that we also share."
At an executive level, Mattiacci will oversee the company's involvement with Formula E and the partnership with Dragon Racing. Sampson and his team will lead the technical co-operation.
"The strategic partnership with Faraday Future is a critical part of LeEco's SEE plan," said Ding Lei. "LeEco gives its full support towards Faraday Future Dragon Racing, and believes in the future of Formula E, as it aligns LeEco's vision for future eco-transportation. We look forward to working closely with Formula E in this new and exciting motorsport."

"Partnering with Dragon Racing allows us to further showcase our electric vehicle leadership and technical capabilities in one of the most exciting Formulas in the world," said Sampson. "I clearly see Formula E as the right venue to challenge our engineers and technologies in the most extreme performance conditions."

"We are thrilled to welcome Faraday Future into Formula E. Faraday Future is a brand that is targeting the highest standard in terms of design, R&D, and manufacturing of electric cars," said Agag. "We couldn't be happier that they have chosen Formula E to challenge some of the greatest car companies in the world. This announcement again proves that Formula E is truly the future of motorsport."
Faraday Future and Dragon Racing will work together in Season 3 (2016/17) to develop key technology software solutions to maximise performance capabilities within the vehicles' powertrains. Faraday Future's R&D team will look for opportunities within the Dragon Racing platform to improve overall drivetrain performance. Additionally, they will refine data acquisition and analytics to improve vehicle simulation models, which will aid in more accurate predictions of vehicle performance and efficiency.
In the Season 4 (2017/2018) and beyond, Faraday Future and Dragon Racing will work together to implement various Faraday powertrain components, software, firmware, and other hardware as the team sees fit. This could include Faraday Future motors, gearbox, and the FF Echelon Inverter – the same inverter that will be installed into every future Faraday Future production vehicle. While competing in the Formula E World Championship Series, FF technology will encounter some of the most challenging and strenuous conditions the world has to offer.
Since Faraday Future debuted at the Consumer Electronics Show (CES) earlier this year, it had been pursuing an avenue to enter into the series. After it emerged as the title sponsor for the 2016 Formula E Long Beach ePrix, Faraday pursued a path to compete through the Dragon Racing organization, who were among the first teams to commit to the the promise of Formula E. Dragon Racing has demonstrated consistent performance throughout the first two seasons and has set the stage for a promising Season 3.
"We are excited to see our partners make such significant strides to bring their technology to different aspects of the electric vehicle movement," said Ding Lei. "Faraday Future's strategic partner, LeEco, will also be involved in the sponsorship with Dragon Racing. LeEco has deep roots in sports and entertainment and plans to help its partners promote the platform. Electric, intelligent racing joins LeEco's pursuit of the future mobility Ecosystem and sports spirits."

"It's an honor for Dragon Racing to form this ground-breaking alliance with Faraday Future," stated Penske. "Formula E symbolizes a vision for the future of motorsports and the automotive industry, and Faraday Future's strategy for next-generation connected electric vehicles aligns seamlessly with Dragon Racing and Formula E. We at Dragon Racing are already looking forward to Season 3, and collaborating with some of the finest engineers and technologists in the EV and motorsport industries."