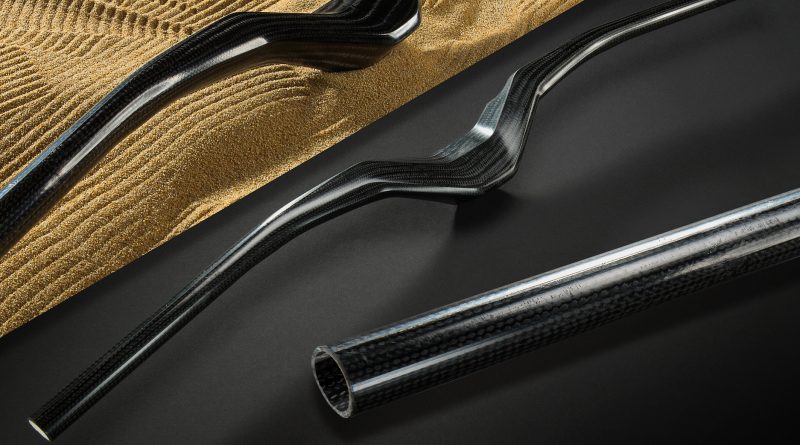 Complex Hollow Carbon Fibre Structures Possible with New Process
A joint project from KTM Technologies, H2K Minerals, Teufelberger and BASF has won the RTM category at the JEC World Innovation Awards for a process to reliably and cost-effectively mass produce complex carbon fibre reinforced polymer (CFRP) parts. The process takes an cohesive view of the process chain – from core formation and the manufacturing of the preform with braided carbon fibres, via the HP-RTM process (high pressure resin transfer moulding) using reactive polyurethane resin to the dissolving of the core material. The project called "Cavus" implemented a geometrically complex hollow part with undercuts by producing a mountain bike handlebar. The technology demonstrator combines the latest processing technologies with mature materials in a procedure that can be applied for the mass production of competitive lightweight parts in the automotive and other industries.
The project was initiated by KTM Technologies, which is responsible for project lead, part development, mould construction and the manufacturing of the parts. H2K Minerals developed and produced the materials for the HP-RTM compatible cores. The braided preform was developed, optimized and manufactured by the composite part producer Teufelberger. Process simulation and the PU system used are from BASF.
The starting point for the component is a specially developed pressure and temperature resistant core. It consists of sand as well as water-soluble additives and can be formed into many different geometries. Preforming is accomplished in a fully automated carbon fibre braiding process. With the braiding technology complex geometries can be realized at high material throughput. Because of the good drapability the preform thus produced already has the final contour of the finished component.The subsequent HP-RTM process is distinguished by short injection times and a highly reactive, compact polyurethane resin system from BASF, which drastically reduces the cycle time to two to three minutes. Due to the high internal mould pressure the carbon fibres can be fully wetted, complex component geometries can be produced with high fibre volume contents. The fast-hardening Elastolit R 8819 PU matrix system for continuous fibre composite parts shows outstanding mechanical qualities, including excellent continuous loading, impact strength and high damage tolerance. The BASF simulation tool Ultrasim helped to find the optimal process management and to reduce the mechanical loading of the core during injection.
At the end of the process, the core material is dissolved with water, a method which is also possible with small component cavities. Depending on the core manufacturing method, up to 98% of the core material can be reused for subsequent production.


Hollow components have a huge potential for lightweight construction. The greatest challenge is complex geometries with variable diameters and undercuts. The high number of manual production steps that is still required, together with subsequent processing work and long cycle times, lead to high unit costs.
"Until now, traditional technologies have only been able to implement ambitious designs in a limited way or at high costs for serial production," says Hans Lochner, head of technology development and prototyping at KTM Technologies. "Our unique 'Cavus' project solves this problem with an innovative, rapid and reliable process which can revolutionize the mass production of complex hollow parts in unit numbers of more than 10,000. The combination of lightweight composite construction and reasonable costs has become tangible. Close collaboration between the companies involved, their know-how and their love of innovation made a decisive contribution to this success."